Keptab
manage tabs friendly and reduce tabs clutter
Keptab is a powerful tabs manager for Google Chrome, Microsoft Edge, or Mozilla Firefox. It convert all your tabs with one click to a simple list. Keptab will give you more power with your browser tabs.
Keptab is similar to OneTab and inspired by OneTab a lot, but, frankly, Keptab is more powerful than OneTab.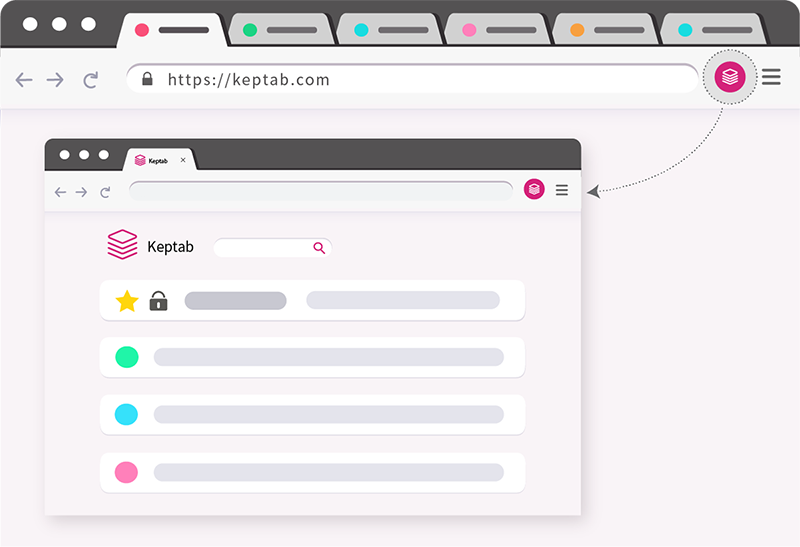 How it works
Whenever you find yourself with too many tabs, click the Keptab icon to convert all of your tabs into a list. When you need to access the tabs again, you can either restore them individually or all at once.
Features
Keptab is designed to be lightweight yet featureful, and lots details beyond your imagenation
Driven by lots of technology

Based on IndexedDB that can save over 1,000,000 tabs
Refuse data loss incident when browser gone crash

Instant search with magic

Super! Super! Super! fastest instant search with magic

Supported almost every languages

Well designed for rtl languages

More details waiting for your discovery
Installations
Just click links as follow to goto your browser apps/addons store, and click Install Keptab button to install.
Safari (pending for developer account)
Firefox (pending review)
Opera (pending review)
Please note that you need to "pin" the Keptab icon to your browser toolbar, so it is not hidden within the extensions icon.
Troubleshooting
For more troubleshooting information, please see our Help
Privacy
Your privacy is important to us. Keptab will never transmitted or disclosed to either the Keptab developers or any other party. If you need more details, please read our Privacy Policy